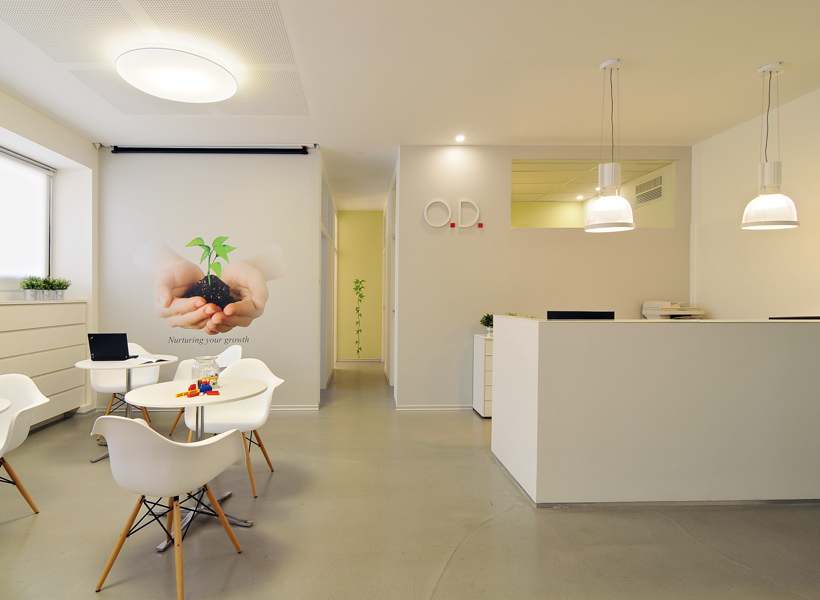 The entryway and front desk

View from the conference room

The conference room and the office's main entryway are seperated by a glass wall

The conference room

A green light fixture and greenery on the wall coincide with the theme of the office

View to the front desk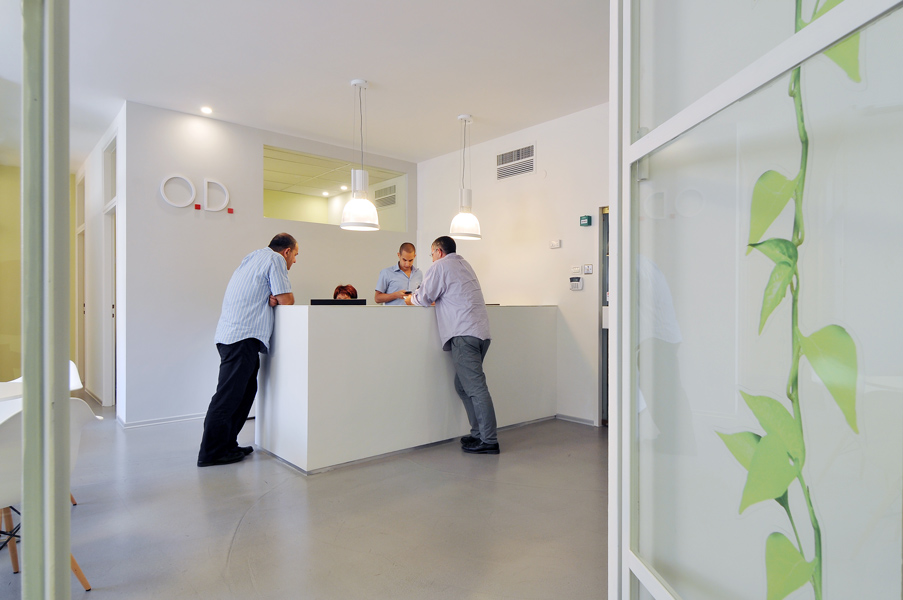 White, clean asthetic with pops of green and red

Meeting area

Hallway

Office space 1

Office space 2

Office space 3

Close
O.D. Offices, Ramat Gan
2012
100 sq.m.
 Photography: Shy Adam
The Design Scheme: O.D. provides organizational development skills and has a long list of clients including major companies in Israel. We were asked to design a comprehensive renovation, within a limited budget, which would upgrade their existing office and their image as a company, and render their surroundings more inviting and comfortable for both workers and visitors. Before the renovation, most of the important meetings were held in client's offices, and the owners would visit their home base only to exchange information and confer with one other. The usual type of recurring office room with desk and chair, assigned to a specific employee, didn't fit very well with their way of working.
The new design concept consisted of distributing the area differently in order to create many different types of rooms and spaces, each one furnished for different needs such as intimate one-on one meetings, or whole company gatherings. The spaces include: a main area with access to all other rooms. This space is for general gatherings which are held once a month, with round cafe' style tables and chairs and equipment for presentations and movies. Here employees can work alone or meet with fellow employees; thus allowing for random encounters. There is a glass walled 6 person meeting room, a half closed 4 person meeting room, and private rooms with armchairs for 2 person meetings.
Branding and Design Concept: The visual concept was born from a picture that the owners liked and had printed on their notebooks, it was of a young plant held in the protecting palms of a pair of hands. This picture gave us an idea of what this company does. O.D. nurtures and advises companies by helping them grow. From this we created the greenhouse design concept, and the slogan "Nurturing your growth".
The large meeting room facing the main area is closed with glass partitions resembling a triangular roofed greenhouse. The lighting fixture above the meeting table is a simple industrial lamp but was painted green and fixed with LED tubes. The fixtures above the reception desk are also industrial looking round lamps like the ones in greenhouses. Some of the walls and glass partitions have 'plants' climbing up them, just like the one in the image but each one reaching a different height. The plants and the light color scheme give the office a fresh and lively look. The main colors are white, light green, light grey and splashes of red (which we derived from the company logo – red squares instead of dots after the letters .)
O.D. Offices, Ramat Gan