Front door design

Dining area affixed between two walls

Bath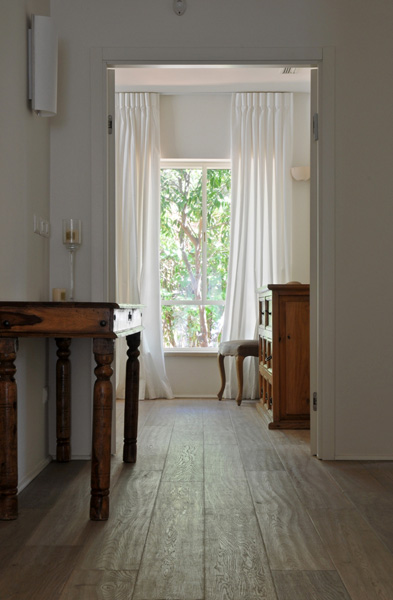 Wood floors with large window lets in natural light

Kitchen with large overhead cabinets and brushed copper hood

Living area

Piano sits in front of large floor-to-ceiling circular windows

Natural light streams into the dining room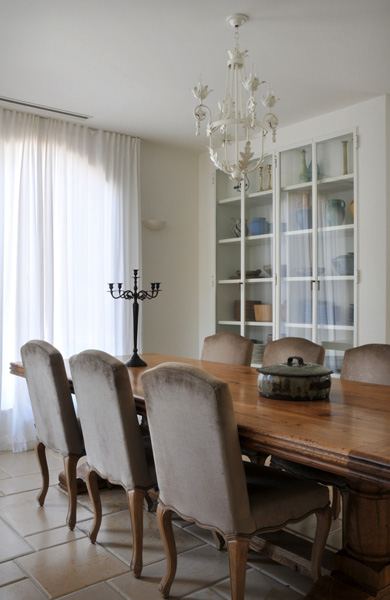 Dining room

Bedroom



Close
[:he]
Magshimim Resience
2008
Photography: Shai Adam
Renovation of a 180 Sqm one-story house in Moshav Magshimim.
The purpose of the renovation was to re-organize the open spaces of the house in order to recieve a continuous and roomy "public space". Before the renovation, the kitchen was located in the center of the house, in front of the entrance, and was enclosed by walls. By moving the kitchen from the center of the house to its side, the view opens and from the entrance, you can see the living room and the garden beyond.
As a result of the renovation, family members have changed the way they use the house, and really enjoy the additional light-filled and inviting corners that were created. Between the living room and the dining room, the original circular windows were enlarged by lowering them to the floor and adding two doors. In front of this great window stands the grand piano, which the owner of the house uses frequently. We also created a workspace inside the large living area by using a thick wall, detached from the ceiling and other walls, and enclosing it with glazed windows of iron and glass, allowing for quiet and privacy in the room while maintaining visual continuity with the living room.
[:en]2008 Photos: Shy Adam, 180 sq m.[:]
Magshimim Residence